There are so many things to do in New York City, even in the winter! If you're like us and looking for ways to spend more time together as a family, check out these New York City winter activities for kids and teens. There is a little something the whole family can enjoy no matter how old your kids are.
And yes, New York City offers great holiday activities, but the winter fun doesn't stop with the holidays, it continues throughout the winter months until spring starts in March.
Whether your kids are little toddlers or have grown into teenagers if you're looking for some winter fun, here are the best New York City winter activities for kids and teens to do. Adults will find these NYC winter activities enjoyable as well!
New York City Winter Activities for Kids and Teens
Go ice skating
If you're looking for a place with spectacular views and inviting space to ice skate, I recommend heading to either Bryant Park, Riverbank State Park, Wollman Rink, or Rockefeller Center. There are tons of places to eat and shop, but you can also stop by other local New York City attractions while you're there.
Check out the pop up holiday markets
Manhattan has pop-up city markets around the holidays that can be the perfect place to do some shopping. Two of the best and biggest ones to visit are near Union Square and Columbus Circle. They have the best selection of gifts and it is the perfect place to stop by and see what they have during the holiday season.
Head to the top of the Empire State Building
This classic landmark is at the top of everyone's list when they visit The Big Apple. However, the views from the top are worth the wait. During the winter, the lines are much shorter and get even better if you're there late at night or first thing in the morning. You may have to buy tickets in advance, but skipping the line by ordering tickets ahead of time is well worth the hassle!
Let the kids be kids during Kids Week at the Intrepid Museum
The Intrepid Museum will host its annual Kids Week festival this year from Saturday, February 19–Saturday, February 26. During Kids Week, children of all ages and interests will learn about STEAM (science, technology, engineering, arts & math) through fun-filled activities, live animal shows, hands-on workshops, performances, special guests and interactive demonstrations designed to educate and inspire.
Visit Madame Tussauds
This wax museum is a great way to get out of the cold and have some fun. This museum is filled with your child's favorite idols and a great place for photo ops with your family. You'll find everyone here from King Kong to Taylor Swift!
Attend one of the many winter events
During the holidays, visit Rockefeller Center for the Christmas tree lighting ceremony, or head to the New York Botanical Garden Holiday Train Show.
During the winter there are a ton of great kid-friendly events that are only available during the winter months. Visit NYCgo for news on upcoming events.
Stroll Through the Harlem Arts Stroll
This great idea comes to us from Atim.
Harlem Arts Stroll is an innovative collaboration of galleries, art spaces, and businesses in Harlem from 110th Street to 155th Street.
The free stroll will commence at Calabar Gallery and a map of all locations is sent to all who register to attend. The Harlem Arts Stroll takes place on the second Saturday of the month from 1 – 6 pm, February 12 and March 12, 2022. About 12-15 locations – galleries and art in cafes, art organizations, and artist studios are participating.
NYC Covid mandates require registrations of all attendees. Visit Eventbrite to register.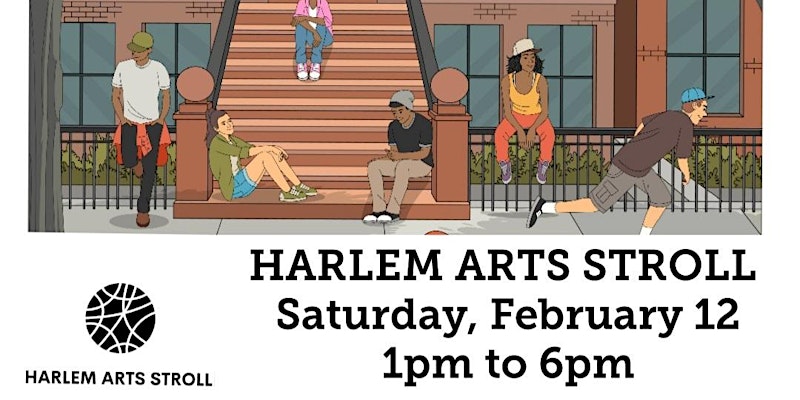 In the heart of Manhattan at Bryant Park sits a wonderful winter wonderland of activities for families with kids, tweens, and teens. There's so much to do you could make a day or days of a visit there. The Winter Village at Bryant Park is open from the middle of November to late February.
Ice skating as described above.
Bump, slide, and spin with Bumper Cars on Ice.
Learn to curl at a Throw and Go Curling Clinic or try it without ice at the Curling Café & Bar.
Ice choreography is unlike anything you've seen before. Watch the Ice Theatre of New York performed by skating apprentices and ensemble members.
If dancing is what you and the kids are into make sure to watch the Ice dance performances.
When you're ready to unwind the cozy igloos are a fun place to have to yourself as you enjoy drinks, snacks, and the sites.
Have a cup of hot cocoa
New York City is the perfect place to get a legendary cup of hot cocoa. You can get the best cup of hot chocolate from City Bakery however, getting a powder mix from Jacques Torres' is still a win in my book.
Experience magic with Griffins, Goblets, and Gold
Fable and Lark is offering "Griffins, Goblets, and Gold," a Magical Arts tour in the Metropolitan Museum of Art. It's an engaging, experiential museum tour for families inspired by great stories. All tours are interactive, fast-paced, and use activities and handouts to highlight both the art and the stories.
Head out sledding
Have you done a lot of sledding in New Jersey? It's time to try sledding in New York City! Hit the hills with your sled at some of these amazing sledding locations.
Central Park's Pilgrim Hill
Upper West Side's Riverside Park
St. Nicholas Park
Brooklyn's Fort Greene Park
Inwood Hill Park
Check out a Broadway show
If you're visiting at night, why not see a show? There are tons of great shows that you can see with great discounts for the whole family. You'll find everything from The Lion King to Wicked to help you find the perfect fit for your children. Take a look at our 5 Ways to Save Money on Broadway Tickets for tips for saving money on tickets to Broadway shows.
Warm up with a visit to a New York City museums
You probably know New York City is home to a lot of fabulous museums, but did you know that many New York City museums offer free admission? Take a look at all the places you can go in our guide to New York City Museums with FREE Admission and Pay What You Wish Days.
Treat your girl to an American Girl experience
More than a store – the American Girl Place NYC is an experience! It's a rite of passage for many families to bring their children in, dressed up, dolls in hand for a lunch date or a special treat. Families can dine together, have a salon experience, play, or be inspired by all the American Girl dolls on display. Learn what an experience can be like in our guide to the American Girl Place NYC.
Build a Bear
Build-A-Bear Workshop is one of our favorite brands – the bears are quality, their outfits are adorable and the staff is always helpful. A few years back on a visit to New York City, Melanie (past Jersey Family Fun writer) surprised her two kids with a trip to the new Build-A-Bear NYC store and the kids were thrilled from start to finish!
The one-level Build-A-Bear NYC store is like the Build-A-Bear Workshop you're familiar with – lots of friends to choose from, a stuffing station, party area, and more outfits and accessories than you can imagine. You can learn more about their Build a Bear experience in Make Your New Best Friend at Build-A-Bear NYC.
Give the kids a little sugar
While I'm not one to indulge my kids in a lot of candy, there are some times when I make an exception. A visit to NYC is one of those times. How can you pass up the opportunity to visit all those extra special candy stores?
At M&M's World Times Square, create customized M&M's candies with your own image and personal message.
Make a stop at the Hershey's Chocolate World location in Times Square!
And with two locations in NYC, Dylan's Candy Bar offers everything your sweet tooth could want in a bright, fun and memorable store.
Add in some cheap fun
Visiting New York City for winter activities doesn't have to be expensive. In addition to the New York City museums with free admission we told you about earlier, there are other New York City attractions that are free or pretty cheap to get into. Take a look at our Ultimate List of Cheap and Fun Things to do in New York City With Kids for more ideas.
Experience Christmas in New York City
Christmas in New York City can make for some pretty special family memories. In our guide to New York City Christmas Activities for Families, we share New York City Christmas activities for kids and teens with tips and a list of must-see Christmas attractions in New York City.
Make it a New York City Sleepover!
While we don't normally recommend hotels we haven't had an experience with this hotel offer was too cute and perhaps perfect to not share.
Conrad New York Downtown has recently partnered with the author of "Little Kid, Big City!" Beth Beckman, to create a unique experience for families visiting New York City. The "Little Kid, Big City!" add on package is an interactive self-guided tour that gives young travelers the opportunity to embrace NYC's popular stomping grounds like the Bronx Zoo, Statue of Liberty and One World Trade Center. Hungry tykes can also take a bite out of the Big Apple with stops along the way to try the iconic pizza and bagels.
This package is suitable for ages 8 – 12 years old but fun for the whole family! Once the activity booklet is complete, tiny adventurers can collect a prize from Conrad New York Downtown's Guest Relations team.
The kit includes activities, itineraries, crayons, pencils, stickers, a carrying case, and more. Guests can easily add this package to their hotel package before or during their stay.
More Kid-Friendly New York City Hotels
Here are a few kid-friendly New York City hotels we have stayed at. You can read about our experiences and watch our room tour videos in the articles below.
No matter how long you have to spend in New York City, you and your kids will find something on this list to help inspire you to explore The Big Apple with your kids during the winter months. These New York City winter activities are great ideas for winter break, weekends, school holidays or whenever you want to escape New Jersey for a nearby day trip.