Marlton Recreation Park Playground in Pilesgrove New Jersey is part of a huge park with various baseball and soccer fields, a paved 1.16-mile walking path, and 3 children's playground areas. A concession stand and 2 pavilions make this 62-acre park a large feature in the Woodstown area of Pilegrove Township.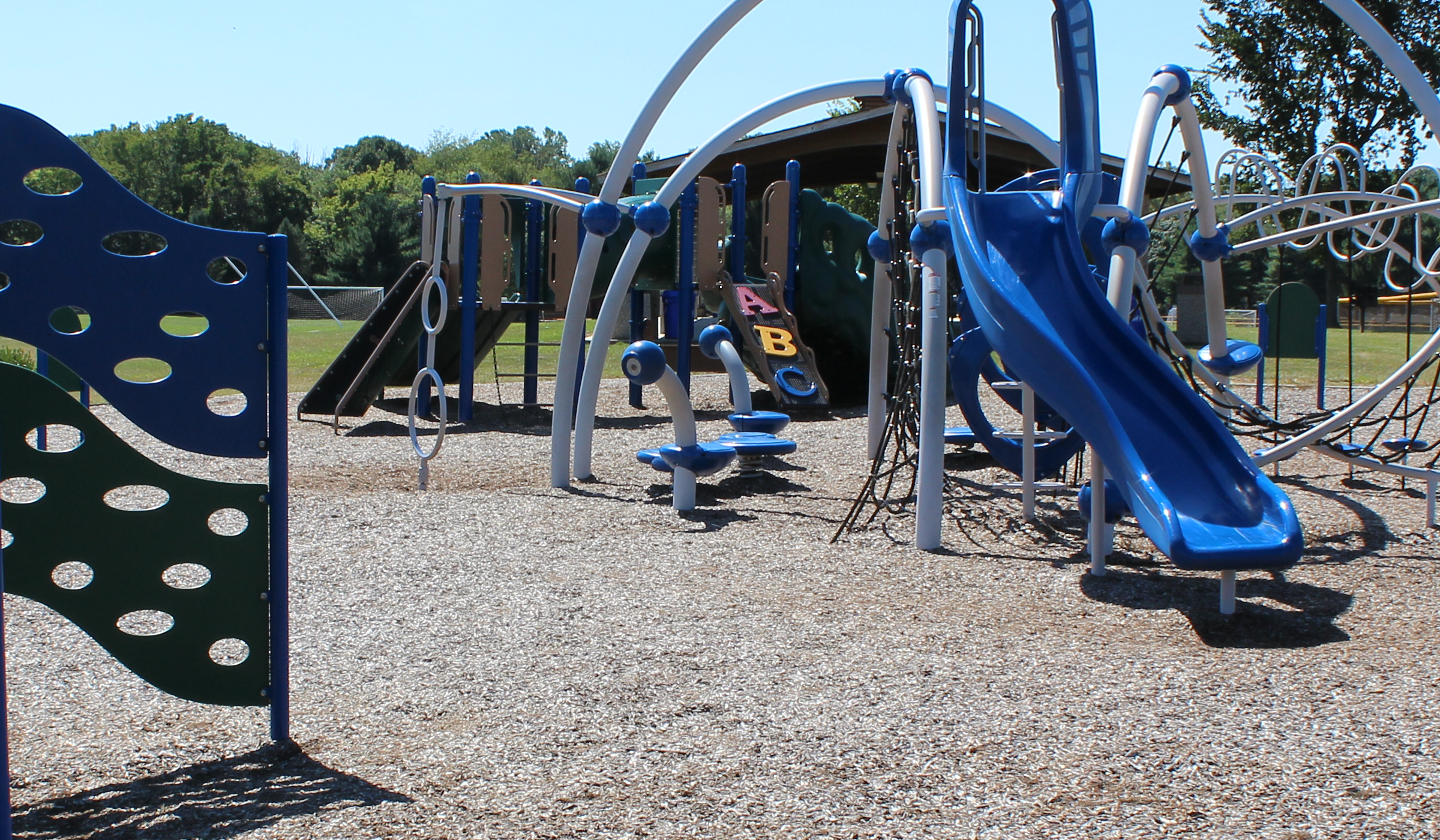 10 Things to Know About Marlton Recreation Park Playground in Pilesgrove
As part of our challenge to write about 100 New Jersey playgrounds in 100 days we bring you the details about Marlton Recreation Park Playground, a playground in Pilesgrove NJ.
Where is Marlton Recreation Park Playground located?
Marlton Recreation Park is located at 123 Marlton Road in Pilesgrove, New Jersey, Salem County. The park is managed by Marlton Park Recreation Association.
What kind of playground equipment does the Marlton Recreation Park have?
Marlton Recreation Park has three playgrounds around the park offering different ways for kids to play. These playgrounds are situated near the youth playing fields. There are slides, swings, and more.
Are there swings?
There are 2 baby swings and 4 traditional swings on one swing structure.
Are there slides?
There are a few different slide options at the playground. Some are open and curve and some are straight.
What special features does the playground offer?
Describe the special features in sentence format.
See Saws
Spinners
Climbing structures
Stepping pods
What kind of ground cover does the playground have?
The ground cover is wood mulch.
Is the playground at Marlton Recreation Park accessible?
There are no accessible pieces of playground equipment, nor are there accessible swings. There were not any sensory play areas.
Is there shade available at the Marlton Recreation Park?
Parts of the outside of the playground area get shade from the trees. There are also pavilions for additional shade.
Where is parking for the Marlton Recreation Park?
There are two parking lots.
Are there restrooms at Marlton Recreation Park?
There are multiple port-a-potties throughout the park.
What else is there to do at Marlton Recreation Park?
In addition to the playground at Marlton Park Playground, there are additional amenities available for visitors such as sports fields, an outdoor fitness area, and walking paths.
Are there walking trails?
The park website reports the walking/jogging track can be divided into three loops.
The largest loop circles around the entire park. One trip around the large loop is 1.16 miles.
The medium-sized loop runs around the upper part of the park and is equivalent to 1.02 miles.
The small loop runs through the lower portion of the park and is under 1 mile at .91 miles.
Are there fields or courts for sports?
The park contains a football field, nine soccer fields, five baseball fields, one T-ball, two softball fields, and a lacrosse field.
Bonus information we want you to know about Marlton Recreation Park
You can learn more about this park, its history, and upcoming events by visiting the organization's website.
Who do I contact about having a birthday party or event at Marlton Recreation Park?
We provide these details about Marlton Recreation Park Playground as a service to our readers and the park. However, Jersey Family Fun is not directly involved with this park. To reserve Marlton Recreation Park for a birthday party or private event, please contact them directly by calling (856)769-9470 or visiting their website.
Find more great playgrounds in New Jersey
Visit Salem County parks and playgrounds to learn more about playgrounds near this one. Visit our series on New Jersey Playgrounds and Parks to learn more about the great playgrounds across our state.