I feel like these past few years need to be the YEARS of the Mom. Even though we are coming out of the pandemic and everything related to it, moms are so much more pressure on them than ever before. Many moms haven't had much time for self-care and fun activities.
Moms deserve a little pampering all year long. It was with that in mind that we created this gift guide of gifts moms want this year for Mother's Day, holidays, and birthdays. Gift mom gifts that will make her feel special, loved, and appreciated long after the holiday has passed.
Our guide of gifts moms want for Christmas includes gifts we think all moms will enjoy. We thought hard about each gift to make sure it would be a gift that
moms could enjoy using,
would make mom's life a bit easier,
would allow her a distraction from her day-to-day,
or allowed mom to pamper herself a bit.
All of these items are available for sale online to make your job of shopping for mom easy. You could even use some of these gift ideas for aunts, grandmothers, aunties, and others who take on a mothering role with kids!
Let this mom gift guide make your shopping easier. Use this gift guide for ideas or even better shop right from our links (some are affiliates) and have everything shipped to your home. No leaving the house. No dealing with crowds or hoping you can find a parking spot. Shopping made easy.
All of these items can be ordered online. We've posted some affiliate links. (We participate in affiliate programs that allow us to earn a commission when you make a purchase using our links.) We've received samples for most of these gifts for mom and have tested them out to make sure they work as promised and look as they do online. If your company would like to be considered for this list please contact us at [email protected]
NEW for 2022 Gifts Moms Want This Year
Gifts for mom's kitchen
What kind of items for the kitchen are on mom's wish list? How about some new pans or pots? For the mom who prefers to fill her space only with things that are beautiful, made with care and attention, and are going to make cooking and baking more convenient, these recommendations would be great gifts for mom.
Anolon Advanced Home Hard Anodized Nonstick Deep Grill Pan 11 inch
With the Anolon Advanced Home Hard Anodized Nonstick Deep Grill Pan, mom can grill up dinners even in the winter, without having to go outside.
The Infinity Slide nonstick surface makes cooking easy.
Raised ridges and pour spouts add to that ease because draining grease and oil doesn't have to be so messy. By using a square pan versus a similar circular pan, I can fit more pieces of chicken, steak, or whatever I'm grilling.
The Anolon Advanced Home Hard Anodized Nonstick Deep Grill Pan 11-inch is available on Amazon in a variety of colors.
Farberware Classic 3-Quart Saucepot with Steamer Insert
Steaming up a side dish or a small serving, save mom the trouble of lugging out the big steamer. Get her the Farberware Classic 3-Quart Saucepot with Steamer Insert. It's oven-safe and dishwasher-safe and available on Amazon.
Anolon Advanced Bakeware 9-Inch Square Non-Stick Spring Form Pan
Does mom love to bake? If so, she's going to love this 9-Inch Square Spring Form Pan. It's perfect for brownies or square-shaped cakes and cheesecakes. With detachable sides and an extended bottom, the bottom serves double duty as a serving plate for the yummy dessert mom just made.
The Anolon Advanced Home Hard Anodized Nonstick 9-Inch Square Spring Form Pan is available on Amazon for just $25.
Farberware Classic Series 8-Quart Stockpot with Straining Lid
Ever try to drain a large pot of pasta for a family of 5? It can be challenging. The pot is heavy and the force of all that pasta can make a strainer wobble and potentially fall over. Enter the solution, Farberware's 8-Quart Stockpot. It comes with a straining lid that locks in place.
When it comes time to drain the pasta, lock the lid in place, and drain the water over the sink. A strainer won't be needed and the pasta will stay in the pot. Add the sauce to the pot or do like we do and keep the sauce on the side for the kids to add as much or as little as they want. With this pot, Family Pasta Nights are much less messy.
The Farberware 8-Quart Stockpot with Straining Lid is available on Amazon.
Rachael Ray Over the Sink Colander
This Rachael Ray Over the Sink Colander is my new favorite strainer. Drain, strain, and rinse pasta, rice, fruits, seafood, veggies, and more while the adjustable arms allow the strainer to rest securely over the sink. No more shifting strainers as mom drains out pasta for the next family dinner. The Rachael Ray Over the Sink Colander is available on Amazon for less than $30 making it a great affordable gift for mom.
Gifts for mom's oasis, Backyard Discovery's Potting Table/Serving Bar
Whether mom's oasis is the backyard by the pool, a patio, or her garden, this Acacia Wood Potting Table/Serving Bar is something she's going to love to add to it.
Poolside or on the patio, mom can use it as a space for snacks or drinks. The flat surface is deep enough to store drinks or glasses towards the back, while having room for plates and food in the front. The upper shelf can hold smaller glasses, condiments, sunscreen, or even a small Bluetooth speaker. Store extra snacks, beach towels, or a small cooler down below.
In the garden, mom can use it as a planting center. The flat surface provides mom a spot to plant. The shelf below serves as a spot for storing extra pots, bags of soil, or other large items. The higher minishelf can hold gardening tools or small pots.
The Backyard Discovery Potting Table/Serving Bar is available on Amazon or the Backyard Discovery website.
Gifts to pamper mom
Let's Celebrate Butterfly Holiday Gift Set
Give your mom a luxurious shower experience with Spongellé's giftable body wash-infused gift sets. These butterfly-shaped body wash-infused buffers cleanse, exfoliate, massage, and nourish—each with a uniquely different scent.
Let's Celebrate gift set comes with 1 Love Butterfly and 1 Hope Butterfly. Love features decadent citrus, seductive midnight jasmine, and captivating black currant scents. Hope features bountiful orange blossom, kisses of cinnamon and clove, and rich amber scents. Get the set on the Spongelle website or similar sets on Amazon.
Tea Time with TAZO Teas
We were sent a variety of TAZO tea samples to try. The favorites among moms were the seasonal blend Joy and Glazed Lemon Loaf. Both are available on Amazon.
The JOY Limited Edition of TAZO teas infuses black, oolong, and green tea with soft peach flavor notes. The Glazed Lemon Loaf TAZO teas allows you to enjoy the tastes of tangy lemon and velvety creamy vanilla.
Quiet Time with the LectroFan EVO: Sound & Noise Machine
Sometimes moms need a little help blocking out the sounds and getting a good night's rest. The LectroFan sound machine, available on Amazon, can help with that.
The LectroFan EVO sleep sound machine uses state-of-the-art technology to generate dynamic, realistic fan sounds, white noises, and ocean sounds to help block intrusive noises so you can relax, concentrate, and fall asleep easier.
Featuring ten fan sounds, ten white, pink, and brown noise, and two variations of ocean noise, The LectroFan Evo helps block out disruptive noise and keeps mom relaxed. Not only can you set a timer for sound control, but the Evo offers a headphone connector and portable speaker to match your environment and sleep style.
For the mom that's on her feet a lot, Copper Fit Ankle Length Sport Socks
Moms who teach, serve as nurses, work as servers, or who otherwise are on their feet all day deserve socks that can help reduce foot discomfort. I know I'm appreciating the cushioning comfort of the Copper Fit Ankle Length Sport Socks on days I'm in the classroom as a substitute teacher. The padding from the socks makes a difference to my feet.
The Copper Fit Ankle Length Sport Socks come in white, black, or multicolor on Amazon. Whether mom wears a uniform or not, these socks will match her daily attire while also keeping her feet comfortable. At $9.99 and up they make an affordable stocking stuffer.
Calendars to help Mom Keep Track of All the Things
Richard Scarry's Big Busy Family Calendar
Richard Scarry's Big Busy Family Calendar is a big, busy family calendar with art from one of the most beloved children's authors ever. Wherever you hang this family-friendly 17-month calendar with handy large format grids, Huckle Cat, Lowly Worm, and the rest of the Busytown gang will delight children and invoke nostalgia in adults.
With 5 different colored bars for each weekday and extra roomy weekend grids it's easy to keep track of who has to be where and when.
175 Colorful stickers helps you personalize and embellish the calendar as you like. There's even a drop-down pocket to store important school papers and other notes. Get the Big Busy Family Calendar on Amazon.
Kids Awesome Activity Calendar
The Kids Awesome Activity Calendar is going to feel like the kids' calendar just as much as mom's. Each month is marked by a different interactive scene. Kids will want to giggle at the images, doodle in their own drawings, and accentuate the graphics with the more than 300 stickers it comes with. Get the Kids Awesome Activity Calendar on Amazon.
5 Minute Daily Meditations Page-A-Day Calendar
The 5 Minute Daily Meditations Page-A-Day Calendar was created to bring joy, authenticity, and openness. Doesn't mom deserve that?
Trusted spiritual guide, meditation teacher, and author of books such as 5-Minute Daily Meditations and Spiritually Sassy, Sah D'Simone, pulls from ancient techniques to offer a practical, and actionable approach to spiritual growth and daily affirmations. The 5 Minute Daily Meditations Page-A-Day Calendar is available on Amazon.
Working from Home, Making the Most of It Page-A-Day Calendar
Is mom working from home? Is she running her own side hustle? The Working from Home, Making the Most of It Page-A-Day Calendar is perfect for her! The Working from Home calendar is packed with practical advice and inspiration for moms trying to manage the home and work life balance.
Tips such as put your desk in a room with natural light—or what to do if that's not possible or go ahead and eat while standing at the kitchen counter, especially if you sit in front of the computer all day, will have a positive impact on mom's 9 to 5 an9 5 to 9. Get the Working from Home, Making the Most of It Page-A-Day Calendar on Amazon.
Previous Ideas for Gifts for Moms that this Mom Still Loves
The following gift ideas for moms were reviewed and featured in previous years. I still love them, still use them, and wanted to reshare them again.
The Ultimate Custom Planner for Moms (or Anyone) That Have Too Much To Do
I was introduced to the PurpleTrail custom planner last year and it has changed how I plan and keep my mom life organized. I refer to it as the ultimate planner for moms (like me) that have too much to do.
Learn more! See examples and see how I customized my mom planner in our article, The Ultimate Custom Planner for Moms (or Anyone) That Have Too Much To Do. We even share a discount code you can use to save on your gifts for moms. Don't have time to plan the gift, then treat mom to a gift card so she can customize the planner for herself.
Jewelry
Worldfinds Kantha Beaded Necklace and Earrings
This Intertwining Kantha Necklace and Kantha Beaded Teardrop Earrings is STILL one my favorite newer pieces of jewelry. When WorldFinds invited me to shop their collection for items to review, I fell in love with these two pieces. I just wasn't sure if they would be as gorgeous in person. They are! The colors are so rich, the jewelry set is a fabulous way to dress up and sweater or dress. The pieces are sold separately and each comes packed in a cloth bag for safe storage.
The Intertwining Kantha Necklace is a five-strand statement necklace that will have you daydreaming of the tropics with its bright colors and patterns! Each piece is made from recycled Kantha textiles, so colors and patterns are all one-of-a-kind and will vary. It's priced at $45 on their site.
Like the necklace, the Kantha Beaded Teardrop Earrings are one-of-a-kind and made from fabric beads from recycled Kantha textiles and golden beads. The earrings are priced at $15.
Get both pieces together and take advantage of free shipping when you shop for gifts for mom.
These next few bracelets are beautiful, stylish, and go with anything. They come ready to be gifted or slipped into mom's stocking or special package.
The Rocky Stone Beaded Bracelet – Blue Sodalite
The Rocky Stone Blue Sodalite Beaded Bracelet, from Groovy Girl Gifts Sodalite stone beads showcase medium to deep blue shades, accented with white or grey calcite that gives it the look of denim lapis. The beads sit on an elastic stretch cord. The bracelet comes with its own gift box.
Calming Crystal Bracelet Set from The Crystal Elephant
The Calming Crystal Bracelet Set can help bring peace to a busy mom's day. Moms can wear them as a set or separately. It's said the combination of these 4 crystal bracelets will bring their calming energies to those wearing them. Made with authentic howlite, labradorite, amazonite, and snow quartz. They can be ordered from The Crystal Elephant website and come with a cloth bag to keep the bracelets protected from damage.
Purses and travel bags for moms
Weekend Royalty bag from Groovy Girl Gifts
This year I'm all about monogramming and personalization. My teens got monogrammed luggage bags you can find in our teen gift guide. I'm getting it on it too with new travel bags that I can have personalized for me. The first one I've started traveling with is this weekend royalty bag from Groovy Girl Gifts.
The exterior (available in different color combinations) is crafted from 20 oz. cotton canvas material, includes two zippered pockets, one big and one small with leather pulls, and is accompanied by a fully adjustable shoulder strap. Each bag can be personalized with up to three custom embroidered monogram initials. An inexpensive tote bag that makes a fabulous gift idea for moms always on the go.
Chic wear for colder days
Fallon Hat with removable Pom Pom
Gift mom this cozy-chic beenie to help her stay warm on those cold days, especially if she's the kind of mom that has to spend a lot of time outdoors waiting for the kids to finish their school day or a sports practice. This Fallon Hat/beanie comes in a variety of colors and the pom pom top snaps on and off so mom can remove it or change it up with other pom-poms as she pleases. Get mom one from the Virginia Wolf website.
A gift to help mom breathe easier
With everything that's coming into your home these days, wouldn't it be nice to gift mom something that helps her and the rest of the family breathe easier? The EnviroKlenz Air System Plus is a premier air purifier for healthy homes that uses a safe non-toxic earth mineral technology. It uses an EnviroKlenz Air Cartridge with military-grade EnviroKlenz Technology to remove and destroy toxic and noxious odors, chemicals, and pathogens. It has been 3rd party tested and proven to help improve indoor air quality.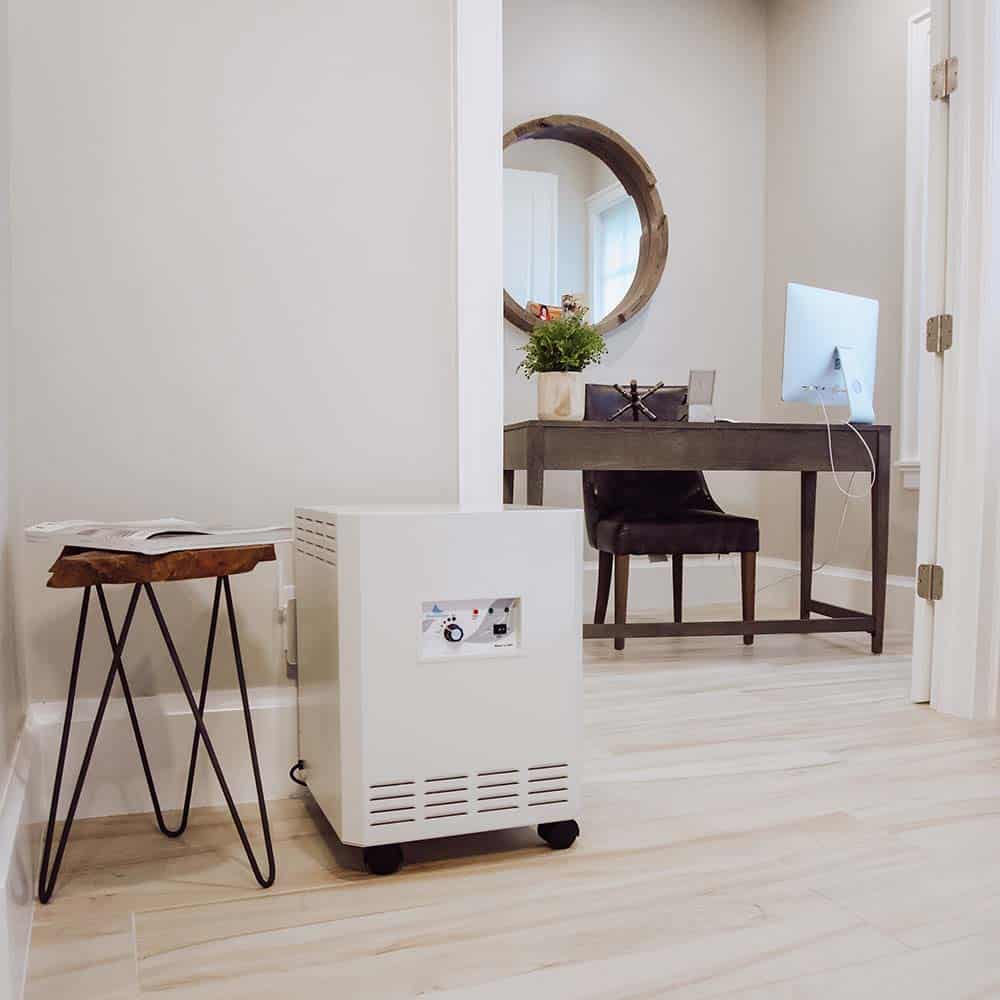 Gifts for grandmas and great grandmas
Customized Great Grandma mug
It can be really hard to find gifts perfect for great-grandmas. Yes, any of these gift ideas for moms would be appreciated, but don't great grandmothers deserve something that recognizes their role? They do and that's why I love these custom mugs from Panvola. They are personalized with the years great-grandma became a mom, grandma, and great-grandma. Get a customized mug for the great-grandmother in your family.
Gift mom all year long
Subscription boxes are the 'it' gift right now. Why not gift one to mom and keep the gifts going beyond Christmas. Here's a few I've sampled and love for mom.
Passionistas Project Pack
The quarterly Passionistas Project Pack is filled with five to seven individually wrapped products from women-owned businesses and female artisans including beauty, skincare, apparel, jewelry, food, stationery and more. They include Q&A's with each contributing Passionista, plus access to online content and the Passionistas Project Facebook group, to inspire women to follow their passions.
The winter/holiday pack's theme will be Passionistas Renew and included
15 Minute Pamper Me Kit by Naisture
Penguin Bath Bomb by Kara Bombs
Moon Charm by Beadology By Heather
Renew My Lips Lip Exfoliator by Rude Cosmetics
Reversible Silver/Lush Wine Scarf by Veroma Gifts
Reflexology Socks by Bath Accessories Company
A Flight of Mini Chocolate Bars by Terroir Chocolate
A Chocolate Pairing Class with Stacey from Adventure Wednesdays
There is a free bonus gift included with every first purchase.
Customers will receive a Free Mystery Box if they sign up for an annual subscription to Passionistas Project Pack and use the code WINTERMYSTERY.
Sparkle Hustle Grow gift boxes for women entrepreneurs
Sparkle Hustle Grow is a monthly subscription box and online community for female entrepreneurs. It's for the boss babe, the go-getter, and the side hustler. Each box includes 4-6 items like books, chic office supplies and tech gadgets. In addition to the physical items, subscribers also get access to online business training and a vibrant online community. Get mom a box through their website.
Fit Snack gift boxes
I love the idea behind the Fit Snack box subscription, to inspire moms to take up healthy snacking, workout, yoga and meditation every month. The subscription is perfect for experiencing new incredible snacks every month! Each snack is hand-selected by Fit Snack's nutritionist, and the majority are sourced from local businesses.
In addition to Snacks, they also provide an online subscription to exclusive, at home yoga, workouts, meditation, healthy recipes, mindfulness and nutrition tips. The Fit Snack subscriptions are available through their website and Amazon.
Spark Joy Box
Take care of the mom that takes care of everyone else with a Spark Joy Box. Spark Joy Box boxes come in three themes pamper, refresh, and indulge. Each box comes with at least 4-6 items and is valued at a minimum $80-$120. You can purchase one box or gift mom a subscription.
More special gifts for moms
CHI Volumizer 4-In-1 Blowout Brush
The CHI Volumizer 4-In-1 Blowout Brush is the blowdryer every mom needs. When my hairdryer burnt out a few years back, I never replaced it. The process of blowdrying my long hair was always so time-consuming I really didn't have the time for it. Then, I was sent a CHI Volumizer 4-In-1 Blowout Brush to review.
I love it! If you've ever had a salon blowout where your stylist has a blow dryer in one hand and a brush in the other, you can now have the same experience with one hand. The CHI Volumizer 4-In-1 Blowout Brush is like a blow dryer with a brush attached to it. I am able to blow dry and style my hair quicker than ever before and achieve the same look as if I had gone to my stylist. I can easily switch between the 4 attachments to achieve the look I wanted.
This blowout brush includes four attachments for unlimited styling options. Whether you're looking for a straight, wavy, or curly style, this brush has you covered! The CHI Volumizer is available on Amazon.
Gifts Moms STILL Want This Year
Check out these gift ideas we picked for moms last year and earlier this year. They are still popular! From gifts that help in the kitchen to gifts that help moms pamper themselves, take a look and we're sure you'll find the perfect gift for mom here.
Just because it's been a crazy year and you may not want to shop in stores, doesn't mean you can't show your mom she's loved with a special gift! If you're looking for a thoughtful gift for mom, that you can buy safely and from the comfort of your own home, any of these would be a gift mom wants.
For help with your holiday and Christmas Shopping take a look at these posts
We're currently updating these guides for 2022.
Coming Soon

10 Games for a Better Family Game Night with Teens