Initially published in 2013 but we update our tips to enjoy the 2023 Atlantic City Air Show annually.
Every year nearly 1,000,000 people visit the beaches of Atlantic City to enjoy the Atlantic City Air Show Thunder Over the Boardwalk. It's the best FREE air show in New Jersey.
The Atlantic City Air Show Thunder Over the Boardwalk is held annually in August. It's also called the "A SALUTE TO THOSE WHO SERVE". This year, the Atlantic City Airshow will be Wednesday, August 16, 2023. This year's Atlantic City air show activities are expected to last from 11:00 am to 3:30 pm.
I've been taking my kids to the Atlantic City Air Show Thunder Over the Boardwalk for 10 years and I have some tips to make the Atlantic City Air Show Thunder Over the Boardwalk more manageable for parents. After all, it is a once-a-year event and we want you to be there when the Atlantic City Air Show returns.
The 2023 Atlantic City Air Show will be on August 16, 2023.
9 Tips to enjoying the Atlantic City Air Show
Know where there is parking for the Atlantic City Air Show
Take advantage of public transportation, shuttles, or the Jitney service. There WILL NOT BE A complimentary round-trip shuttle service to Brighton Park and the boardwalk from Borgata.
Atlantic City casinos offer parking, rates vary. In previous years, parking in some Atlantic City garages went as high as $25-$30.
Consider also the traffic in Atlantic City, there's a lot of stop and go and many missed the beginning of the show because they were sitting in bumper-to-bumper traffic. Even better take the train into Atlantic City, kids under 5 ride free on New Jersey Transit.
If you'll be shopping at Tanger Outlets, eating at Applebee's or Ruth's Chris Steakhouse you may be able to get free or reduced parking.
Check this site for more parking lot locations.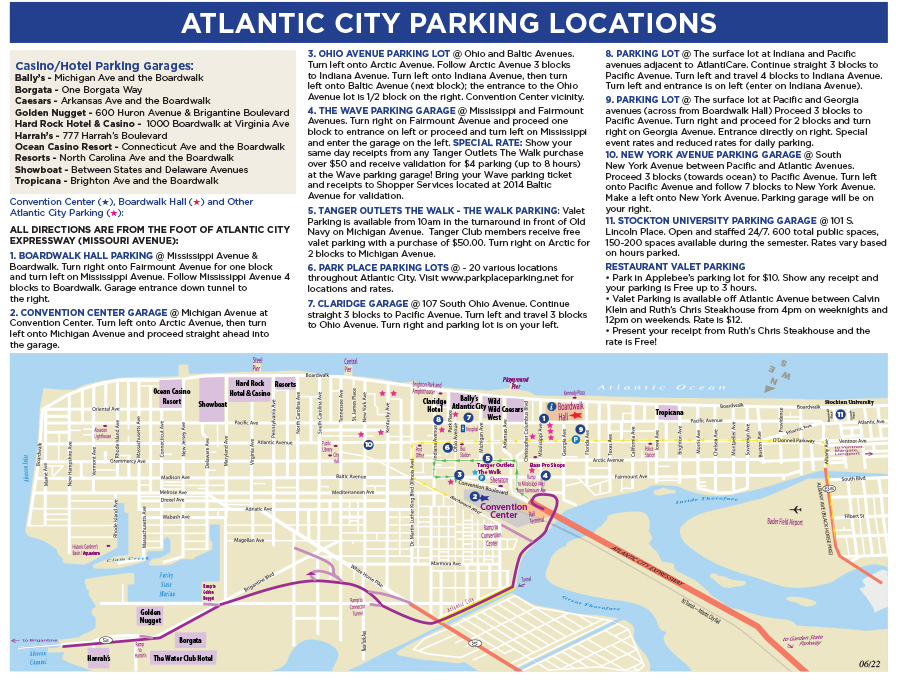 Arrive early for the Atlantic City Air Show
Yes, admission is FREE. Tickets aren't required. But trust me you are going to want to get there early.
Whether you want to sit on the beach, on the boardwalk, or you've bought a VIP seat in a tent, get there early to claim your spot. The show usually starts between 11 -11:30 am, but families will start arriving much earlier than that.
Find your own spot on the beach
Bypass the VIP tent or rooftop events. Park yourself on the beach. That whole grass is greener on the other side is kind of funny. Don't be jealous of the VIPs in the tent. It's not always a better seat. The food in the media tent is good but the view not so much. With umbrellas and chairs all around us when we did it, the view was blocked and my kids didn't have much room to move around.
Park your family on the beach, the kids will love playing in the sand and water in between the jets, blimps, and aerial acts and you won't hear complaints of them being bored or have to worry about the non-family-friendly adults. Plus it's the best view, many jets will fly right in front of your eyes. You can't see them when you're back in a tent behind umbrellas.
Locate where the restrooms are BEFORE you sit down for the Air Show
Nope, you don't have to go trek into a casino when your child has to go potty. Behind the tents there are port-o-potties. They are spaced out, there was one every couple of feet. There are also public restrooms on the boardwalk.
Make sure you have your flip-flops, sliders, or sandals on. Underneath the blaring sand, the sun gets incredibly hot to walk on. I was reminded of this the hard way one year when my littlest had to go to the bathroom and we tried to make the walk barefoot. It was an incredibly painful walk, even more so when I carried him the rest of the way.
Eat on the beach at the Atlantic City Air Show
Pack lunch and snacks – You've found your spot on the beach. You're comfortable. The kids are good. Do you really want to trek all the way up the beach to stand in lines for overpriced food? Enough said. Moms, dads, grownups, and grandparents you know what I mean.
Pack, pack, and pack again
The Atlantic City Air Show, will run from 11:00 am to just after 3 pm on Wednesday, August 16, 2023. If you arrive early that can be a long day in the sun for the kids. Make sure you are prepared.
15 Things to Pack for the Atlantic City Airshow
Amazon links are affiliate links. We participate in Amazon's affiliate program and may earn a commission with your purchase.
Sunscreen – The sun can get really hot and the air show takes places over the prime hours for getting sunburned. Bring sunscreen. Reapply often and be protected.
FLIP FLOPS – Do not attempt to walk on the sand without footwear. It will be painfully hot against your bare feet.
Hats, sunglasses, visor for additional protection from the sun.
Binocolars – They are really helpful for watching as the paratroopers drop out of their planes or the Coast Guard does demonstrations in the water.
Insect repellant – You never know when those greenheads will appear.
Cash & bank/credit cards – There may be vendors on the boardwalk and ice cream vendors walking the beach. Be ready for any kind of payment method.
Lunch and snacks (see above)
Sand toys
Swimsuits & towels
Water bottles
Noise Cancelling Ear Buds or headphones if the sound will bother you or the kids
Diapers
Camera
Umbrella
Radio– If you are close enough to the action you will be able to hear the announcers on WPG Talk Radio 95.5 FM and 1450 AM telling you about the aircraft. If not, and you want to be able to hear there are a number of stations you can tune into to hear it.
Pack your patience
The Atlantic City Beaches never get as crowded as they do for the airshow. This isn't the kind of event where you will have lots of space to spread out. Umbrellas will be close by. The water will be packed. Generally everyone is polite, but you may need patience as you find a spot to sit, navigate your way to the water, or try to watch certain performances in the water.
Come for the practice day
If you don't like crowds, consider coming for the practice day. Locals know it can be a more enjoyable way to enjoy the AC Air Show. You can still experience all the thrilling performances and fly bys, but you won't have as many visitors to deal with.
There also won't be as much loud noise to deal with because there are no emcee broadcasts, just the planes.
Print the Atlantic City Air Show Schedule
You can access the air show schedule online for free, (will be updated as performances are confirmed) or buy one at the show. But have it with you so when your kids start asking, "What is that?" you can actually tell them.
For the performance schedule, click over to our calendar event or visit the airshow website.
Must see Atlantic City Air Show performances include:
As of July 20, 2023 only limited details have been announced regarding the 2023 airshow schedule.
Geico Skytypers
The Skytypers did not participate. So far they are not on the 2023 schedule.
As their name suggests, the Skytypers do skywriting in puffs of smoke. Most planes that spell out names or create midair images do it laboriously, one letter at a time, using the craft's thick emissions trail. "We're the only guys in the country that do it digitally at altitude, through a computer," says Arken. [Arken is commanding officer and lead pilot for the Geico Skytypers, a squadron of six vintage World War II aircraft that performs precision flight maneuvers at airshows around the United States.] "We can do 25 letters in a minute and a half."
Aerobatics Demonstrations
US Army Golden Knights Flag Jump w/National Anthem
Flybys
These are listed for the 2023 performers.
U. S. Marine Corps AV-8B Harrier
Jim Beasley P-51 Mustang
In 2022, there were these flybys. They are not yet listed for 2023.
NJ ANG 177th FW F-16
NJ ANG 108th WG KC-135
NBC 10 Helicopter
NJ ANG Composite Wing Flyby (KC-135 & (2) F-16s)
USN MH-53 Super Stallions
Medical Helicopter
NJ State Police
552nd ACW E-3C Sentry
1st HS, UH-1N Twin Huey (2-ship) Flyby
FAA William J Hughes Aircraft Flybys (2-passes)
With all the great performances and fun in the sun and sand, which one will your favorite? Would love to hear what everyone's favorite performances are and what has been your all-time favorite performance if you have gone multiple times over the years. Post a comment below!
Check out our Atlantic City Air Show pictures from earlier airshows on Facebook.
For more ideas for things to do with the kids in Atlantic City after the Air Show, please visit this link.
Have you been to the Atlantic City Airshow? Do you have any other tips to share?